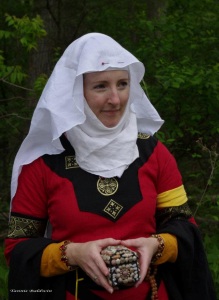 My name is Alyna of the Ilex. I have been a member of the SCA since my freshman year of college at Ohio University. I enjoy trying new arts. Thankfully my Barony has regular arts and sciences night where we learn and try new things. Because of my diverse interests I have not pinned down a persona or time period but I am studying ladies of the middle ages in the hopes to re-create the capable, gracious guardian of the home and hearth for my Lord Husband as well as my Barony.
With the encouragement of my peer, Countess Adelicia, I am teaching, displaying and documenting more of my artistic endeavors. Please check back for more information.
Baroness Alyna of the Ilex
Member of the Company of the Dragoon Guard
Freescholar of the Academie d'Espee
*Picture courtesy of Tannis Baldwin.
Awards and Recognition
Award of Arms (Middle): May 17, 1997
Whelk (Atlantia, Tir-y-Don): March 19, 2005
Opal (Atlantia): November 1, 2003
Grant of Arms (Atlantia): March 24, 2007
Territorial Baroness (Atlantia, Tir-y-Don): March 24, 2007
Sea Dragon (Atlantia): September 1, 2007
Shark's Tooth (Atlantia): August 8, 2008
Coral Branch (Atlantia): April 16, 2011
Golden Dolphin (Atlantia): August 10, 2011
Undine (Atlantia): February 28, 2012
Court Baroness (Atlantia): April 28, 2012
Undine (Atlantia): April 6, 2013
Class Handouts
Royal Liaison